Melinda Hill
Melinda is the founder of EASE. She started the charity in 2001 by establishing a sanctuary for hoofed animals in Hertfordshire from 2001 to 2003, at which point all the animals were successfully rehomed. She then set up the Pet Easement Project, fostering the pets of families in women's refuges fleeing domestic violence. This was carried out under the auspices of the 'Links' group, which included the RSPCA, Dogs Trust and other national charities. In 2005 the Pet Easement Project was taken over by the Dogs Trust in London, who were able to bring to bear their considerable resources and agreed to cater for the women's refuges in Hertfordshire on the basis of the network that EASE had established.
Since then Mel has remained responsible for administration and fundraising, building up the website and producing the newsletters, and has also helped the EASE Pet Loss Support project.
Mel says: "I have always wanted to work with animals, and so setting up EASE has been a marvellous experience for me. I thoroughly enjoyed running the sanctuary and learned a huge amount from it; and the Pet Easement Project has been a great way to help people and their pets.
When EASE started the Pet Loss Support programme we were only one of a handful of organisations focussing on this important area, which has since then grown enormously. I am proud of the range of Pet Loss support material we are able to offer, which I know has been of great benefit to many people suffering the loss of a beloved pet.
Although we're only a small charity, it's still satisfying to know that we can help people and their pets in the ways that we do."
Angela Garner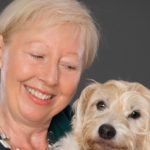 Angela is a Founder Member and Volunteer of EASE. "I have held a great concern about animal welfare issues since childhood when I became aware of suffering in the world and, like others, I passionately wish to play my part, however small, in helping to make things right. As I felt very akin to the aims and vision of EASE, I was delighted when Mel asked me to get involved. Being a member of the EASE team has become a valued part of my life as together we grow and develop existing and new projects to strengthen the timeless relationship between people and their pets."
In 2001 Angela set up and developed the EASE Pet Loss Support Services, creating a broad range of audio and written support literature for this programme and for the Education Programme.
Angela feels passionately about humane education and for some years ran a series of EASE workshops on 'Being Kind to Animals' at local schools in Devon. "Doing these workshops made me realise how much I enjoy teaching, and I have since gone on to develop my skills enabling me to deliver bereavement support coaching to staff in animal welfare organisations and vet practices."
Angela has worked with a national equine company on bereavement support for horse owners, which she sees as a particularly important area. "People can form an incredibly close bond with their horse, pony or donkey, and the practicalities of equine end-of-life issues can make this a particularly challenging area for owners and vet staff. So I'm delighted that this area is now receiving more recognition as an important part of Continuing Professional Development within veterinary practice; and the workshops I've done for horse owners and 'Training the Trainer' sessions for vets have been received with enthusiasm and interest." Angela also lectured at the 2015 British Equine Veterinary Association on "Euthanasia – supporting the bereaved equine owner" reaching a large audience of veterinary professionals.
Angela was awarded a Fellowship of the Society of Bereavement Practitioners in respect of her work in pet loss support. The Society has also conferred the SBP Trust Mark on EASE in recognition of their appreciation of the work and the quality of care provided.
Angela is the author of two books on pet bereavement, details of which can be seen at: http://www.petlosspress.com